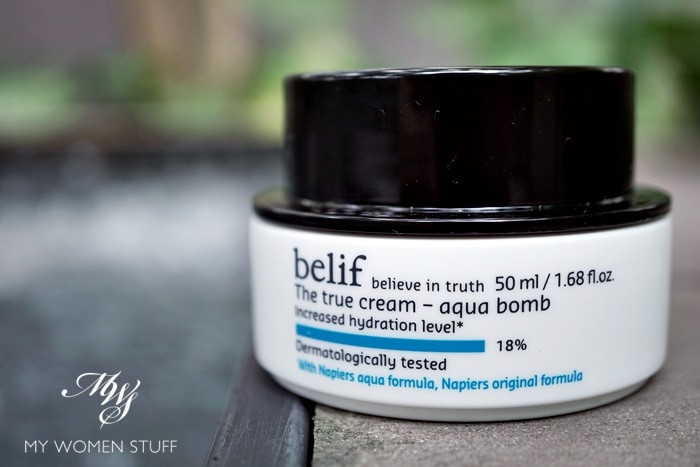 belif
The True Cream Moisturizing Bomb
Best Price Guaranteed
We've comparison shopped for you:
$38.00 + Shipping (Sephora)
Free Shipping & Free Returns
Free standard shipping and free 30-day returns.

Product can be returned in a new or gently-used condition within 30 days of purchase.

Return with pre-paid shipping labels or in-store at your nearest Sephora
Details
Belif's the true cream-moisturizing bomb is cushiony cream textured moisturizer that soothes cracked, dry skin with a flood of 26 hours of long-lasting, comforting moisture. The indulgent, whipped texture leaves even the most sensitive of skin types feeling supple, smooth, and deeply nourished.
Key Benefits:
Evens Out Skin
Gentle
Lightweight
Hydrating
Good For Acne
Brightening
Anti-aging
Redness Relief
Ingredients
Stearyl olivate, Nepeta Cataria Extract, Acrylates/C10-30 alkyl acrylate crosspolymer, Bis-PEG-18 Methyl Ether Dimethyl Silane, Cyclohexasiloxane, Stellaria Media Extract, Water, Sorbitan Stearate, Glycosyl Trehalose, Hydrogenated starch hydrolysate, Sorbitan Olivate, Euphrasia Officinalis Extract, Macadamia Ternifolia Seed Oil, Salix Alba Bark Extract, Urea, Avena Sativa Kernel Extract, Spiraea Ulmaria Flower Extract, Cetearyl Alcohol, Hydrogenated lecithin, Althaea Officinalis Root Extract, Trifolium Pratense Flower Extract, Pentaerythrityl tetraethylhexanoate, Xanthan Gum, Triethylhexanoin, Alchemilla Vulgaris Leaf Extract, Hydrogenated Polydecene, Chelidonium Majus Extract, Poncirus Trifoliata Fruit Extract, Tromethamine, Lactobacillus/soybean Ferment Extract, Hydroxyethylpiperazine Ethane Sulfonic Acid, Ethyl olivate, PEG-100 Stearate, Citronellol, Saccharomyces/imperata Cylindrica Root Ferment Extract, Calendula Officinalis Flower Extract, Carbomer, Stearyl Alcohol, Panthenol, Dimethicone/Vinyl Dimethicone Crosspolymer, Fragrances, Rubus Idaeus Leaf Extract, Trisodium EDTA, Mistletoe, Stearic Acid, Symphytum Officinale Leaf Extract, Dimethicone, Dipropylene glycol, Achillea Millefolium Flower Extract, 1,2-Hexanediol, Glycerin, Viola Tricolor Extract, Thuja Occidentalis Leaf Extract, Rosa Damascena Flower Extract, PEG-40 Stearate, Glyceryl Stearate, Menyanthes Trifoliata Leaf Extract, Baptisia Tinctoria Root Extract, Stearyl olivate, Nepeta Cataria Extract, Acrylates/C10-30 alkyl acrylate crosspolymer, Bis-PEG-18 Methyl Ether Dimethyl Silane, Cyclohexasiloxane, Stellaria Media Extract, Water, Sorbitan Stearate, Glycosyl Trehalose, Hydrogenated starch hydrolysate, Sorbitan Olivate, Euphrasia Officinalis Extract, Macadamia Ternifolia Seed Oil, Salix Alba Bark Extract, Urea, Avena Sativa Kernel Extract, Spiraea Ulmaria Flower Extract, Cetearyl Alcohol, Hydrogenated lecithin, Althaea Officinalis Root Extract, Trifolium Pratense Flower Extract, Pentaerythrityl tetraethylhexanoate, Xanthan Gum, Triethylhexanoin, Alchemilla Vulgaris Leaf Extract, Hydrogenated Polydecene, Chelidonium Majus Extract, Poncirus Trifoliata Fruit Extract, Tromethamine, Lactobacillus/soybean Ferment Extract, Hydroxyethylpiperazine Ethane Sulfonic Acid, Ethyl olivate, PEG-100 Stearate, Citronellol, Saccharomyces/imperata Cylindrica Root Ferment Extract, Calendula Officinalis Flower Extract, Carbomer, Stearyl Alcohol, Panthenol, Dimethicone/Vinyl Dimethicone Crosspolymer, Fragrances, Rubus Idaeus Leaf Extract, Trisodium EDTA, Mistletoe, Stearic Acid, Symphytum Officinale Leaf Extract, Dimethicone, Dipropylene glycol, Achillea Millefolium Flower Extract, 1,2-Hexanediol, Glycerin, Viola Tricolor Extract, Thuja Occidentalis Leaf Extract, Rosa Damascena Flower Extract, PEG-40 Stearate, Glyceryl Stearate, Menyanthes Trifoliata Leaf Extract, Baptisia Tinctoria Root Extract, Stearyl olivate, Nepeta Cataria Extract, Acrylates/C10-30 alkyl acrylate crosspolymer, Bis-PEG-18 Methyl Ether Dimethyl Silane, Cyclohexasiloxane, Stellaria Media Extract, Water, Sorbitan Stearate, Glycosyl Trehalose, Hydrogenated starch hydrolysate, Sorbitan Olivate, Euphrasia Officinalis Extract, Macadamia Ternifolia Seed Oil, Salix Alba Bark Extract, Urea, Avena Sativa Kernel Extract, Spiraea Ulmaria Flower Extract, Cetearyl Alcohol, Hydrogenated lecithin, Althaea Officinalis Root Extract, Trifolium Pratense Flower Extract, Pentaerythrityl tetraethylhexanoate, Xanthan Gum, Triethylhexanoin, Alchemilla Vulgaris Leaf Extract, Hydrogenated Polydecene, Chelidonium Majus Extract, Poncirus Trifoliata Fruit Extract, Tromethamine, Lactobacillus/soybean Ferment Extract, Hydroxyethylpiperazine Ethane Sulfonic Acid, Ethyl olivate, PEG-100 Stearate, Citronellol, Saccharomyces/imperata Cylindrica Root Ferment Extract, Calendula Officinalis Flower Extract, Carbomer, Stearyl Alcohol, Panthenol, Dimethicone/Vinyl Dimethicone Crosspolymer, Fragrances, Rubus Idaeus Leaf Extract, Trisodium EDTA, Mistletoe, Stearic Acid, Symphytum Officinale Leaf Extract, Dimethicone, Dipropylene glycol, Achillea Millefolium Flower Extract, 1,2-Hexanediol, Glycerin, Viola Tricolor Extract, Thuja Occidentalis Leaf Extract, Rosa Damascena Flower Extract, PEG-40 Stearate, Glyceryl Stearate, Menyanthes Trifoliata Leaf Extract, Baptisia Tinctoria Root Extract, Mistletoe, Thuja Occidentalis Leaf Extract, Achillea Millefolium Flower Extract, Rosa Damascena Flower Extract, Euphrasia Officinalis Extract, Bis-PEG-18 Methyl Ether Dimethyl Silane, Glyceryl Stearate, 1,2-Hexanediol, Lactobacillus/soybean Ferment Extract, Nepeta Cataria Extract, Urea, PEG-100 Stearate, Chelidonium Majus Extract, Symphytum Officinale Leaf Extract, Viola Tricolor Extract, Sorbitan Olivate, Sorbitan Stearate, Spiraea Ulmaria Flower Extract, Hydrogenated lecithin, Stearic Acid, Dipropylene glycol, Tromethamine, Stearyl olivate, Calendula Officinalis Flower Extract, Macadamia Ternifolia Seed Oil, Citronellol, Triethylhexanoin, Panthenol, Cyclohexasiloxane, Xanthan Gum, Dimethicone, Acrylates/C10-30 alkyl acrylate crosspolymer, Water, Hydroxyethylpiperazine Ethane Sulfonic Acid, Menyanthes Trifoliata Leaf Extract, Althaea Officinalis Root Extract, Pentaerythrityl tetraethylhexanoate, PEG-40 Stearate, Carbomer, Poncirus Trifoliata Fruit Extract, Glycosyl Trehalose, Salix Alba Bark Extract, Hydrogenated starch hydrolysate, Hydrogenated Polydecene, Avena Sativa Kernel Extract, Fragrances, Trifolium Pratense Flower Extract, Stellaria Media Extract, Stearyl Alcohol, Baptisia Tinctoria Root Extract, Trisodium EDTA, Alchemilla Vulgaris Leaf Extract, Rubus Idaeus Leaf Extract, Cetearyl Alcohol, Glycerin, Dimethicone/Vinyl Dimethicone Crosspolymer, Saccharomyces/imperata Cylindrica Root Ferment Extract